12/8/22
Happy December (:
This has been an alright month for me so far. Life's been kinda slow, but I'm making the best out of the time that I do have for myself right now.
After weeks of coding and fighting for my life trying to work with Javascript, my first project is up! I'm actually really happy with how it came out in the end. There are a few more things I need to complete about it, but the bulk of the work is done. This was my first time building and coding such an interactive webpage. Granted, it was very tedious, but it's oh so rewarding in the end. I hope you enjoy it as well, fellow netizen!
I'm already brainstorming my next project. Like many other people with artsy-fartsy websites, I have a good number of original characters that I would like to showcase somehow on this website. These OCs are a group of bunnies... space bunnies... space alien bunnies from a faraway planet. One of them is currently featured on the connect page! Her name is Gwendolyn. I want to make another interactive webpage that will showcase them and their world. It'll include bios, art, stories; I'm even thinking about making some sorta minigame involving them! I dunno, my newfound familiarity with Javascript has me thinking I can do all sorts of things. Maybe though! We will see.
Going on another tangent, I'm really enjoying looking through other people's sites here on neocities! It amazes me how creative people can be once given a blank slate to make their own. There are so many talented artists, writers, and developers throughout neocities. It's refreshing to see a more genuine, personalized, and passionate side of the web, versus the cold, corporate, atomic waste of modern day social media. Keep it up, guys!!
Stay safe, stay warm, and remember to stay nice because Santa Claus is coming to town!
11/14/22

Hello my peaches <3
This month's going by kinda fast and the weather's getting colder! I hope you're keeping warm and staying healthy.
I have a neat project coming up for this site: club PEACH! It's going to be a really cute page dedicated to sharing some interesting topics and hobbies of mine. I would like to share some of the music I've been listening to lately, my favorite and current TV shows and animes, my growing Tamagotchi collection, among other hobbies and interests. Something to add a little variety and depth into my little corner of the web lol. I have it all mapped out in my head, I just need to regurgitate all of it onto the net via code and pastel graphics.

You know the concept of a person's "inner child" and how we should cater to it? I want to believe that working on this site allows me to do that. I'm getting more in tune with my artistic side again, which is something that I wasn't really allowed to do as a kid. My priorities were always shifted towards doing well in grade school, and any inkling of creative expression outside of classwork was immediately shot down. It really sucked. But now that I'm a big girl now with my big girl degree, I can do whatever the fuck I want! I can use any time I have to draw and color and code and paint my little world with pastels and polka dots and all the cute characters I created. (This isn't me fishing for sympathy, but just me acknowledging my inner child and telling her that her talents were valid, beautiful, and worth investing in.)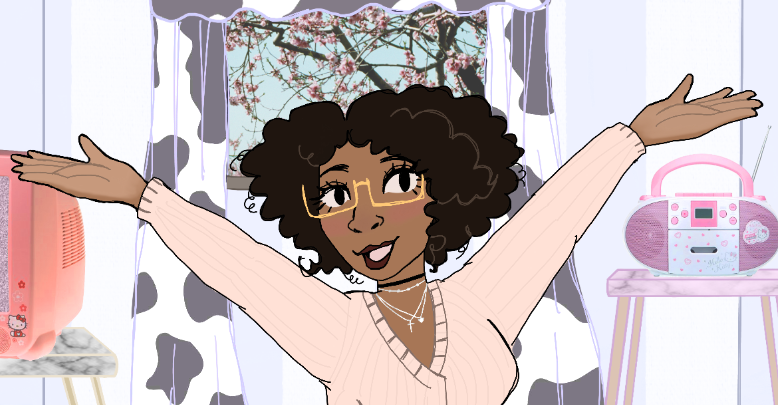 Moving on, what's currently up with me? I recently scored another Tamagotchi: a v6/Music Star! I never got to own one when they first came out when I was a kid. I will never forget the day that I saw a limited edition one that came with three figurines and a DVD for like $9 at a discount store. I wanted it so bad but knew that my mom would never buy it for me, so I left it. Today, such an item would sell for at least $1000. Trust me, I've seen ridiculous listings on Ebay for those things.
Sometimes I wonder what it is about the Music Star that makes it so sought after. From the videos I've seen of other people playing it, it seems to have a ton of features and has more in-depth gameplay besides simply raising a little alien creature. I guess I will find out once I get mine in the mail. I managed to buy it from a nice person in the Tamagotchi discord I'm in. Granted, it cost a pretty penny, but it was much cheaper than what other people are selling them for.

11/2/22




Happy new month (: <3
Life's looking a little up for me, lately. I recently passed all my board exams and will soon be able to look for meaningful work! I graduated from pharmacy school (which was a feat on its own, considering current events..) I'm going to begin an exciting chapter of my life. Things have been going according to plan ever since I finished school. I honestly have to thank God for that. Sometimes, my plans seem to fall through, but I'm really happy with how things are going for me as of late.
Not to keep repeating myself, but I'm still so excited about my website!! It's so fun being on here and adding new things and letting my creative juices flow. This is the artistic outlet that I've needed for some time. I'm really excited to see what more I can do with my little virtual domain.
The weather's getting cooler, which I'm also grateful for. I live in a very hot part of the country, and it's about time that we get some relief from the heat. Before I moved back down here, I resided in a state that was much colder. I had so many big jackets and sweaters that I ended up giving away!! I miss it there, though. I had so many friends there and a much better social life.. However I'm sure once I start working and get out into the world again, I'll make some new connections.
Currently, I'm watching Breaking Bad. I never watched it up until now, considering I was in intermediate school when it premiered. It's such a well-written show with the right amount of drama, humor, suspense, and character development. I'm not usually one to binge-watch shows but I've been hooked on it for about a week now. Another plus is that I now understand most of the memes about the show LOL. There's a pizza on your roof...
One more thing: I've created a dream log! I got the idea from seeing other netizens document their dreams, so I will do the same. I have some pretty weird dreams from time to time, and it'll be interesting to keep record of them. I'm pretty jealous of my dream self, tbh. I think she's a personification of who I wish I was, the places I want to see, who I wish I could be with...
I see my dreams as visions. Visions that may come true one day. Subconscious manifestations of what's to come. Well.. at least the good ones. I've had some shocking dreams that I'd much rather forget.




10/31/22
Happy Halloween!
What an exciting time. I'm kicking off the creation of my cute new website. This is something I've truly wanted to do for the longest time. Even when I was younger, I was so into making personal homepages using those free website makers. I also love to code; it keeps my brain stimulated, and it's a much better use of my time versus scrolling on social media and infecting my mind with actual degeneracy. I remember first learning the basics when I was in grade school and everyone had a tumblr page. I thought I was hot shit for knowing how to put a bunch of little graphics all over my page. Pretty simple stuff, really. However, do not talk to me about JavaScript. Please. I haven't learned that one, yet!! I will cry.
Anyways, I'm really excited to begin a couple personal projects that have been floating in my head for over a year now. Being freed from the clutches of college, I have some motivation to start them and just put em out there. I'm not sure how far I'll go with them, to be honest. I'm not gonna hold myself to any deadlines, but they will definitely be on the back burner of my life. Just passive projects that'll be enjoyed by any curious person on the internet.
Not sure what else to say right now... LOL. Today was interesting. I'm not a huge fan of Halloween, honestly (my favorite holiday is Christmas!) I went to the mall and saw a lot of people and children in costumes (some really impressive ones, too.) Shopped for a lil bit then went to get food. The guy who handed me my order was wearing a cowboy costume, so I said "thank you, cowboy!" I made him blush. It was kinda cute.